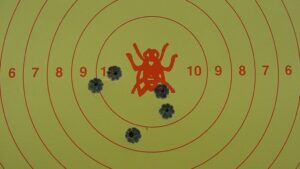 Tuscaloosa Shooting Sports is looking into starting a
FLY SHOOT
.  This is a .22LR rimfire match at 200 yards and will be held after the CMP match monthly using the SSAA rules as a guideline.
We will have an informal gathering this weekend after the CMP match for anyone interested.  For more information or to be added to the mailing list, please contact flyshoot@tuscaloosashootingsports.com
Courses of fire
Competitors are offered a warm-up target with unlimited rounds to confirm their zero and five targets for score. They may use only eight rounds per detail; three rounds for sighting on a sighting plate (paper, steel or other medium) and five rounds on the target to score.
Targets and scoring
The goal is to hit the 'fly', which is right in the center of the target, as well as to shoot the five scoring shots into the smallest group possible for a maximum score.
An approved 10-ring target 220mm in overall diameter, with a 25.5mm 'fly' as the X.  The target comprises a possible 60.5 points, which entails 50.5 for score and 10 points for group.